I went to bed hungry... and tried to win an Ironman
Apr 10, 2023
"I began to feel the pull of the finish line and the joy of the podium and then, seemingly out of nowhere, the pavement started moving rapidly towards my face. And the world went black."
By Sara Gross
In 2009, I was one of the favorites going into Ironman Canada. Two years earlier I finished second sandwiched between Canadian legends Lisa Bentley and Heather Fuhr at the 25th anniversary of the race…just two minutes off the win.
In 2008, I skipped Ironman Canada to focus on the World Championships in Kona, Hawaii. I was the 20th pro woman at that race, a career-best finish, but at the time, I was disappointed.
So in 2009 in Penticton BC, I was fired up and ready to go for it. There were a lot of good athletes in the race and a top-three finish would be a real achievement.
Twenty miles into the marathon, I overtook Janelle Morrison and was running in third place. It was a race full of suffering (some Ironman days are just like that) and I knew I was depleted, but I was used to running in a state of dehydration, low sodium, or gut slosh. The last part of the marathon in any Ironman is about troubleshooting and doing everything you can to get in enough salt, water, and calories to keep running at your goal pace. It's never easy.
When I watched the TV coverage later, I saw myself running well. I would even describe it as fast. I overtook Janelle with conviction. There were some minor red flags, but nothing to indicate what was about to happen.
Shortly after moving into third, with media cameras on me, I felt a warm liquid on the inside of my leg. "Wait, what?" I thought, "Am I pissing myself?" While it's not unusual to take a piss while running in third place at an all-day race like Ironman, typically you know when you are going to pee. My body skipped feeling pressure in my bladder, skipped the moment of relaxation where you try to let go, skipped all the normal body-to-brain feelings besides warm-liquid-on-leg. Yuck.
I can remember thinking, "That was weird."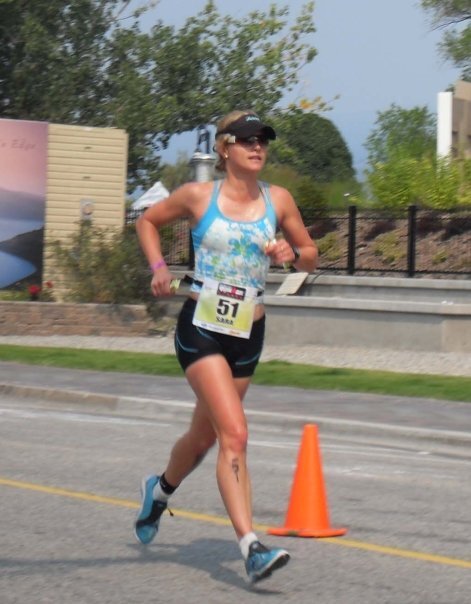 With three miles to go, the energy of the crowd buoyed me as I ran down Main Street back into town. I still felt a little out of it mentally, but a foggy brain is not unusual in the final throes of an Ironman.
I began to feel the pull of the finish line and the joy of the podium and then, seemingly out of nowhere, the pavement started moving rapidly toward my face. The world went black.
So what happened?
Throughout my career, I received the message from well-meaning coaches (and by that I mean every coach I worked with and sometimes other random coaches who happened to be on deck or leading a track session), that if I lost a few pounds I could upgrade my performance. The advice came in many forms. I remember being told many times I was "talented" as code for "you do surprisingly well for someone who has a few pounds to lose." I was once told that there was no point in racing at the World Championships unless I was going to "lean down" even though I had performed well and qualified like everyone else.
For years I had followed all the advice of dieticians and sports nutritionists. I really wanted to win. I like healthy food. And so I followed the plan. And yet my body stayed more or less the same.
And so, in 2009 I decided to get more serious. One of my advisors at the time said, "No one came out of Auschwitz fat." Which at the time, I took to mean that I could get lean if I starved myself more. (but honestly, wtf right??)
And so we decided, in the months leading up to Ironman Canada 2009, that my goal was to go to bed hungry every night. I knew male pros who used that tactic and were seemingly successful. And so that's what I did. For months. My sleep was interrupted, I did not improve my power numbers or speed, and I did not lose weight.
Two days before the race I remember being out for sushi with friends and even then controlling my portions and going to bed hungry. I had committed to it, as if starving myself was some kind of strategy for success.
And I know I'm not the only one who bought into this terrible theory. Having hung out in elite triathlon circles for 15 years in several countries, I can tell you that people actually believed starving yourself was not just ok, but necessary for success. And some people got away with it, and for some people being light did help their performance in the short term, but when I look back on those years I also see the long trail of women who were left behind. The number of women I can name who were talented AF but ended up dropping off with what I now understand is LEA and/or RED-S is in the dozens.
And the worst part? The worst part was that when women failed we blamed them. We blamed an eating disorder which was often code for "she's crazy." We blamed a lack of resilience, not having what it takes, etc… etc… and yet no one said, "Maybe the system is broken." Maybe we never had a chance in the first place.
Not just the pros
In the years since my athletic career ended, I've noticed that the challenges affecting me as an elite athlete were not unique to me, nor endurance sports, but they affect many women in many different ways.
Like the young woman at CrossFit who told me that she fell in love with lifting because it gave her a home as a "big girl" even though she did not match that description of herself.
Or watching our mothers yoyo from Weight Watchers to Jenny Craig, to aerobics classes attended purely to lose weight.
Or the overweight and very fit woman who said that she is not uncomfortable in gyms because she doesn't know how to use the equipment. She's uncomfortable because everyone there is trying to NOT look like her.
Like the fact that despite perimenopause having 37 symptoms that affect our physical and mental health in profound ways, our most popular episodes of the Hit Play Not Pause podcast are about weight loss.
Sending the elevator back down
Our mission at Feisty Media is to create an empowering culture for active women. When we first committed to creating an online course platform, it was obvious where we should start- Nutrition for Women. We wanted to create a course that actually deals head-on with the historical and cultural context of diet culture and how we ended up with this thin, lean ideal for women in the first place in order to unpack the various pressures we feel. We wanted to empower women to understand the physiology of exercise and how we fuel movement, our unique needs as women, and how to make choices that will fuel the life we want.
I still don't know the precise physiological reasons the world went black and I collapsed during Ironman Canada in 2009. I do know that it was related to the fact that I was starving myself every day leading up to the race.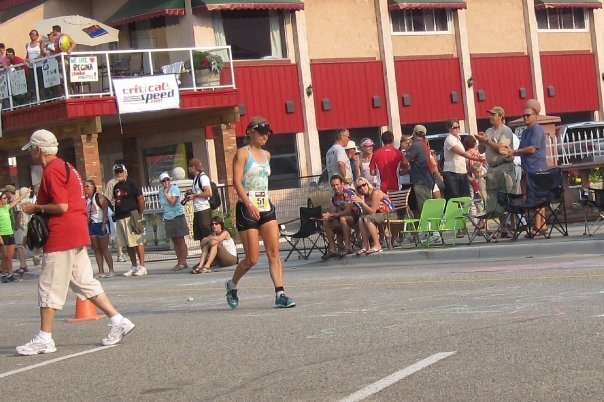 The next thing I remember from that day is walking on the course alongside a paramedic. He was talking, trying to get me into an ambulance and I insisted that I finish the last couple of miles of the race. I remember telling him that if I could just get to the next aid station I would be ok. At the aid station, I drank coke, ate pretzels, and inhaled as much food as I could. And then I felt better. He left me and I walked the remaining two miles slowly, finishing emotionally broken and one hour later than expected.
Of course, my story doesn't end there, and after another failed attempt to race at Ironman Arizona in 2009, I took a break from racing, had my daughter, figured out I have Celiac disease (which actually turned out to be the game changer I was looking for all along) and won two Ironmans at age 38. I'm grateful for what I have, the years I spent as a professional athlete, and everything I learned.
I also want things to be better for the young women coming up behind me, not just in elite sports, but for all women. The course is called Fueled: A Comprehensive Nutrition Course for Active Women and we hope that in big and small ways, we can improve the lives of the women who invest in it.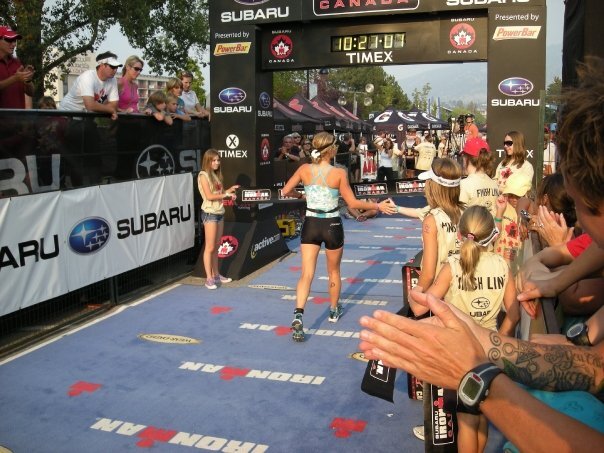 Make your inbox Feisty!
Get the latest women's performance news in your inbox
We hate SPAM. We will never sell your information, for any reason.